Recently added – Our live Facebook page feed is below. Scroll down.
God is inviting us to be a community of believers with Christ as the heart of our ministry, calling us to Proclaim, Care, Praise, Serve and Grow
Current Schedule

(effective Nov. 29, 2020)
Sunday Mornings
9:00 AM – Online Worship Service
Service premiers at 9:00 a.m. but is available
on demand after that at any time.
Many of you shop using Amazon and we would appreciate it if you would support Broad Street UMC when you do so. Please use the link above whenever you shop on Amazon.com and a small portion of what you spend will be donated to BSUMC. We do not see what you purchase – we get a donation only with no names – but it is a simple way to support the church.
There are many wonderful sales on Black Friday and Cyber Monday (shop local on Small Business Saturday and support local small businesses) that you can find at smile.amazon.com. Please consider supporting Broad Street UMC in this way.
This week begins Advent. Due to the increase in the Coronavirus cases in New Jersey, we have decided once again to suspend in-person worship services for at least the next few weeks. Our worship service will continue to be videoed and available on our YouTube channel beginning at 9:00 a.m. on Sunday mornings. We hope you will join us on-line and worship with us.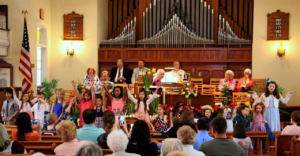 Click here for this week's announcements
Gerald Dickens in 'A Christmas Carol'
Gerald Dickens, the great-great grandson of Charles Dickens, has been mesmerizing audiences for over 20 years with his live performance of the classic tale, A Christmas Carol. This unforgettable one-man show has recently been captured on film for all of his fans to enjoy this holiday season – streaming exclusively on Vimeo.com.
Gerald will take you on the magical journey of Ebenezer Scrooge's heartfelt transformation by acting out all 26 characters in this favorite holiday tale. For just $20, you can rent this inspirational performance in the comfort of your home for 7 days and watch as many times as you'd like during that time — sure to become a treasured Christmas tradition!
(Available on any internet-connected device that is compatible with Vimeo.)
Our Live Facebook Feed is Available Here
Last updated 11/26
/2020
http://C:\Users\Owner\Downloads\googlef8e658a65d0872b0.html
© 2016, 2017, 2018, 2019 and 2020 Broad Street UMC