Our live Facebook page feed is below. Scroll down.
God is inviting us to be a community of believers with Christ as the heart of our ministry, calling us to Proclaim, Care, Praise, Serve and Grow
Current Schedule

(week of May 28
, 2023)
Tuesday, May 30, 2023
6:00PM
Weekly Bible Study
Call church office for location
Friday, June 2, 2023
Saturday, June 3, 2023
10:30 AM – 11:30 PM
Making Hoagies
11:30 AM – 1:00 PM
Hoagie Sale Pick-Up
Sunday, June 4, 2023
Scholarship Application Deadline
9:30 AM
Sunday School for all ages
11:00 AM
Worship Service
Livestreamed on Facebook and posted
early afternoon on our YouTube channel
Looking Ahead:
Sunday, June 11, 2023
Deadline for ordering Trenton Thunder tickets
Sunday, June 11, 2023
9:30 AM
Sunday School for all ages
Last week of Sunday School until September
11:00 AM
Worship Service
Scholarship Sunday
Choir Appreciation Sunday
Service of Farewell to a Pastor
Coffee Hour Following Worship
Tuesday, June 13, 2023
5:00 PM
UMW Picnic
Sunday, June 18, 2023
10:00 AM
Worship Service
Thursday, June 22, 2023
7:00 PM
BSUMC Night at the Trenton Thunder
Sunday, June 25, 2023
10:00 AM
Worship Service
Sunday, July 2, 2023
10:00 AM
Worship Service
Sunday, July 9, 2023
10:00 AM
Worship Service
Service of Celebration of an Appointment
(welcoming our new pastor)
Click
here
for this week's announcements
Click here to go to the church calendar
SUNDAY, JUNE 4, 2023
Join us this week for worship. You have three options:
1. in-person at 11:00 a.m. in our sanctuary (masks optional)
2. live streamed on our Facebook page (which can also be seen at the bottom of this website page) at 11:00 a.m.; or
3. on our YouTube channel shortly after 1:00PM when the recording of the live-streamed service will be available. You can watch previous services there as well.
Pastor Teaira's sermon is based on Ephesians 5:14-15 and is titled Awake, Thou That Sleeps.
____________________________________________________
Watch our on-line service livestreamed to our Facebook page at 11:00 a.m. (also seen on our Facebook feed below) or on our YouTube channel after 1:00 p.m. The link is below.
We hope you will join us on-line and worship with us if you are unable or don't feel comfortable attending the in-person service at this time. If you would like a copy of the liturgy so that you can follow along with the prayers and hymns, please contact the church office at office@broadstumc.org.
If you are not feeling well – cold, flu, stomach bug, Covid symptoms, etc. – please stay home, rest up, take care of yourself and join us online for worship until you are feeling better.
Big Things Happening Now:
Pastoral Change
Effective July 1, 2023
The United Methodist Church uses a system called itinerancy which means pastors are appointed, or 'sent,' by the Bishop to a church according to both the church's and the pastor's gifts and graces. The Bishop and the Cabinet spend time each year looking at open church positions (maybe due to a pastor retiring) and spend time praying about how best to fill those positions. Sometimes that means moving a pastor from a church where they are currently located. Sometimes that means placing a newly ordained pastor in an open position. It is a difficult task that is done with much prayer and consultation and never taken lightly.
Most of the time, changes in appointments are effective July 1, 2023, and this year Broad Street UMC will be getting a new pastor. Pastor Teaira will be moving west to California where she will begin a new chapter and we are happy to announce that the Bishop and District Superintendents have identified a new pastor for Broad Street UMC. Effective July 1, 2023, James Murray will be the pastor.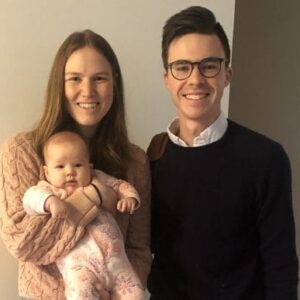 The following is taken from the www.gnjumc.org website:
James was born and raised in Ormond Beach, Florida and nurtured in the Christian faith by his hometown United Methodist Church. He studied Economics at the University of Florida, planning to go to Law School, but heard God's call towards ordained ministry within the UMC. After interning at his home church, he attended Duke Divinity School, where he received his Master of Divinity and met his wife, Katarina. After graduating, James served alongside his wife as an associate pastor at Jesse Lee Memorial UMC in Ridgefield, CT, after which James served as a chaplain resident at Danbury Hospital and as a hospice chaplain for Vitas Healthcare. James and Katarina spend their time with their joyful 2-year-old, Zooey, and loving dog, Sørine.
——————————————————————–
PayPal
Great news! We can now accept PayPal for donations! One more way to make it convenient for you to contribute to the ministry of Broad Street! Thank you for supporting us!
——————————————————————–
Gerald Dickens is Returning in November
Performing A Christmas Carol
Click on the picture below for more information.
——————————————————————–
Church Directory Update
Please help us keep our information current by updating your information here.
——————————————————————–
Sunday School Registration Update
As with our church directory, it is important that we have current information on all of our children/youth. Please help us keep that information current by updating it here.
——————————————————————–
Our Live Facebook Feed is Available Here
Last updated 5/30/2023
http://C:\Users\Owner\Downloads\googlef8e658a65d0872b0.html
© 2016-2022, 2023 Broad Street UMC