Our live Facebook page feed is below. Scroll down.
God is inviting us to be a community of believers with Christ as the heart of our ministry, calling us to Proclaim, Care, Praise, Serve and Grow
Current Schedule

(October 10, 2021)
9:30 AM – Sunday School
Sunday School for both Children and Adults
10:30 AM – In-Person Indoor Worship Service
Livestreamed on Facebook and
posted later on our YouTube channel
For the time being, we will be requiring masks for
everyone attending worship
regardless of vaccination status.
Please read Pastor Teaira's letter
to the congregation concerning this change here.
Many of you shop using Amazon and we would appreciate it if you would support Broad Street UMC when you do so. Please use the link above whenever you shop on Amazon.com and a small portion of what you spend will be donated to BSUMC. We do not see what you purchase – we get a donation only with no names – but it is a simple way to support the church.
UPDATED!
SUNDAY OCTOBER 10, 2021
Join us this week for worship. You have three options:
1. in-person at 10:30 a.m. in our sanctuary (masks required for all);
2. live-streamed on our Facebook page (which can also be seen at the bottom of this website page) at 10:30 a.m.; or
3. on our YouTube channel shortly after noon when the recording of the live-streamed service will be available.
Pastor Teaira's message this morning, "Attributes of A Leader," is based on 1 Timothy 4:6-16. We will be celebrating the leaders of the church and those who kept the church going during the pandemic. Following worship will be a coffee hour. If you are able, please bring sandwiches or a dessert to share.
____________________________________________________
Watch our on-line service livestreamed to our Facebook page at 10:30 a.m. (also seen on our Facebook feed below) or on our YouTube channel after noon. The link is below.
We hope you will join us on-line and worship with us if you are unable or don't feel comfortable attending the in-person service at this time.
If you would like a copy of the liturgy so that you can follow along with the prayers and hymns, please contact the church office at office@broadstumc.org.
Bible Study Tuesdays
–
Again this Tuesday, October 12th, Pastor Teaira will hold an evening Bible study from 7:00 PM – 8:00 PM in the Fellowship Hall (Junior Room). Dinner will be served – please let Pastor Teaira know if you will be attending to ensure there's enough food.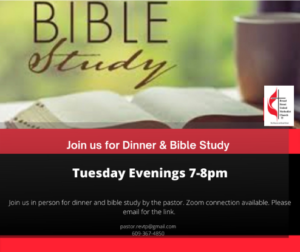 Transformational Thursdays – We have a new way to get some faith refreshment in the middle of the week. Join Pastor Teaira in the chapel at noon for a mid-week sermon every Thursday.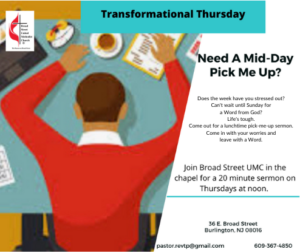 Leadership Recognition Sunday and Coffee Hour – Sunday, October 10th we will recognize the leaders in our church who worked through the pandemic to keep our church operational. So many people stepped up in so many ways and contributed time and talent and we want to recognize everyone's efforts. If you can contribute for coffee hour please contact Pastor Teaira. We'd like to have sandwiches and desserts.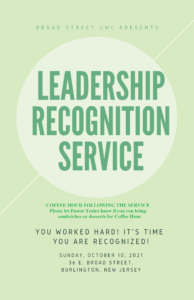 Church Directory Update – Please help us keep our information current by updating your information here.
Sunday School Registration Update

– As with our church directory, it is important that we have current information on all of our children/youth. Please help us keep that information current by updating it here.
Click here for this week's announcements
Our Live Facebook Feed is Available Here
Last updated 10/9/202
1
http://C:\Users\Owner\Downloads\googlef8e658a65d0872b0.html
© 2016-2020, 2021 Broad Street UMC