Recently added – Our live Facebook page feed is below. Scroll down.
God is inviting us to be a community of believers with Christ as the heart of our ministry, calling us to Proclaim, Care, Praise, Serve and Grow

This week we return to Pastor Kim's sermon series progressing through James. Please use the registration link below to register your attendance to help us plan for your visit to our sanctuary.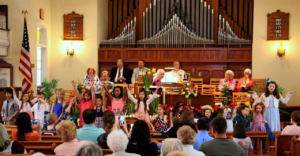 Click here for this week's announcements
Current Schedule

(effective Sept. 20, 2020)
Sunday Mornings
9:00 AM – Online Worship Service
for those unable to attend in-person worship
Service premiers at 9:00 a.m. but is available
on demand after that at any time.
10:30 AM – In-Person Worship in the Sanctuary
Please register your attendance in advance.
View our reopening plan, a message from Pastor Kim and the registration form here.
Many of you shop using Amazon and we would appreciate it if you would support Broad Street UMC when you do so. Please use the link above whenever you shop on Amazon.com and a small portion of what you spend will be donated to BSUMC. We do not see what you purchase – we only get a donation – but it is a simple way to support the church.

We are open for in-person worship on Sunday mornings at 10:30 a.m. We have a reopening plan that was developed by a team of people who have been working diligently since the pandemic started to ensure our congregation stays safe and healthy. The plan is available here and includes a requirement that all attendees wear masks, maintain social distancing and follow all posted signs. Pre-register if you plan to attend by using the form found here.

We realize that many in our congregation, however, have underlying health issues or may still be concerned about attending an in-person worship service, so we are pleased to announce that we will be continuing our on-line worship service. This service will be available beginning at 9:00 a.m. on Sunday mornings on our YouTube channel and it can be watched at any time after that.
Stay healthy. Wash your hands. Check on your neighbors and help them if needed. Pray for healing for those who are sick and guidance for those searching for cures and preventive vaccines. Love your neighbor as yourself.
Our Live Facebook Feed is Available Here
Last updated 10/21
/2020
http://C:\Users\Owner\Downloads\googlef8e658a65d0872b0.html
© 2016, 2017, 2018, 2019 and 2020 Broad Street UMC