Our live Facebook page feed is below. Scroll down.
God is inviting us to be a community of believers with Christ as the heart of our ministry, calling us to Proclaim, Care, Praise, Serve and Grow
Current Schedule

(continuing January 2021)
Sunday Mornings
9:00 AM – Online Worship Service
Service premiers at 9:00 a.m. but is available
on demand after that at any time.
11:00 AM – In-Person Outdoor Worship Service
Weather-permitting (temperature above 35 degrees and no precipitation) we will meet in front of the church to sing a few hymns, hear some scripture and pray for our church, our nation and our world.
We will practice social distancing and masks will be required. Please bring a chair if you will need to sit. The service will last no longer than 30 minutes.
Many of you shop using Amazon and we would appreciate it if you would support Broad Street UMC when you do so. Please use the link above whenever you shop on Amazon.com and a small portion of what you spend will be donated to BSUMC. We do not see what you purchase – we get a donation only with no names – but it is a simple way to support the church.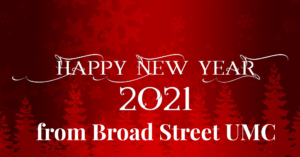 Happy New Year, everyone! Due to pandemic, we continue to suspend in-person indoor worship services for at least the next few weeks. Our worship service will be videoed by a small, dedicated worship team and available on our YouTube channel beginning at 9:00 a.m. on Sunday mornings. We hope you will join us on-line and worship with us. We will also hold an outdoor service at 11:00 a.m. on Sunday mornings either in the front of the church or in our side yard if the weather permits. We have had approximately 10 people attend each of the last two weeks, so it's a small but mighty group.
Click here for this week's announcements
Our Live Facebook Feed is Available Here
Last updated 1/16/
2021
http://C:\Users\Owner\Downloads\googlef8e658a65d0872b0.html
© 2016-2020, 2021 Broad Street UMC