God is inviting us to be a community of believers with Christ as the heart of our ministry, calling us to Proclaim, Care, Praise, Serve and Grow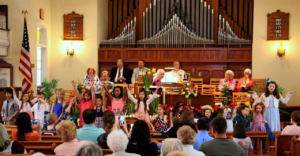 Click here for this week's announcements
Summer Schedule (June – September)
Sunday Mornings
9:20 AM – Hymn Sing
9:30 – 10:30 AM –
Worship in the Chapel
(children up to age 6 start in worship and then leave for
combined Sunday School/Children's Church)
Schedule (September – June)
Sunday Mornings
9:15 AM – Cherub Choir practice (children ages 2 -?)
9:30 – 10:15 AM – Sunday School classes for all ages from toddlers through adults.
10:30 – 11:30 AM – Blended Worship in the Sanctuary (Traditional and Contemporary)
Cherub Choir practice is at 9:15 a.m. before Sunday School and children's Sunday School classes will begin around 9:30 following Cherub Choir practice.
Adult Sunday School classes – the Gleaners class which meets in the Chapel and is a more traditional Sunday School class covering the Bible, and the Contemporary Sunday School class which meets in the Pastor's office, are both available to any adult who would like to participate in Sunday School.
BSUMC at the Trenton Thunder
Thursday, June 27, 2019 7:00 p.m.
Join us at the Trenton Thunder game against the New Hampshire Fisher Cats. Fireworks will follow the game. Tickets are $8 and can be reserved through Cindy Borgstrom. Call the church office for more information or to get a message to Cindy.
Vacation Bible School: SonRise National Park
Sunday, July 7, 2019 – Thursday, July 11, 2019
The eagle, the beaver, the squirrel, the husky and the caribou help children learn about True Peace, True Riches, True Power, True Love and True Hope in this 5 evening free Vacation Bible School program set in the 'SonRise National Park'. Through music, crafts, games, stories and snacks, the theme that Jesus loves and cares for each of us every day will be discovered and learned. Join us! Click above on this week's announcements for a link to a registration form.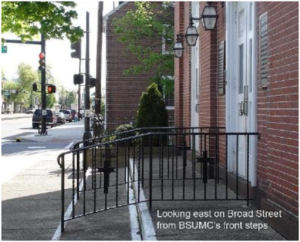 Last updated 06/17/2019
http://C:\Users\Owner\Downloads\googlef8e658a65d0872b0.html
© 2016, 2017, 2018 and 2019 Broad Street UMC