God is inviting us to be a community of believers with Christ as the heart of our ministry, calling us to Proclaim, Care, Praise, Serve and Grow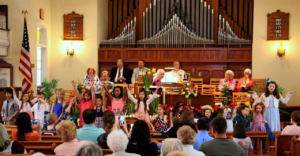 Click here for this week's announcements
Schedule (September – June)
Sunday Mornings
9:15 AM – Cherub Choir practice (children ages 2 -?)
9:30 – 10:15 AM – Sunday School classes for all ages from toddlers through adults.
10:30 – 11:30 AM – Blended Worship in the Sanctuary (Traditional and Contemporary)
Cherub Choir practice is at 9:15 a.m. before Sunday School and children's Sunday School classes will begin around 9:30 following Cherub Choir practice.
Adult Sunday School classes – the Gleaners class which meets in the Chapel and is a more traditional Sunday School class covering the Bible, and the Contemporary Sunday School class which meets in the Pastor's office, are both available to any adult who would like to participate in Sunday School.
Summer Schedule (June – September)
Sunday Mornings
9:20 AM – Hymn Sing
9:30 – 10:30 AM –
Worship in the Chapel
(children up to age 6 start in worship and then leave for
combined Sunday School/Children's Church)
We spent November learning about and practicing gratitude. Some of our daily Facebook posts on gratitude can be found here.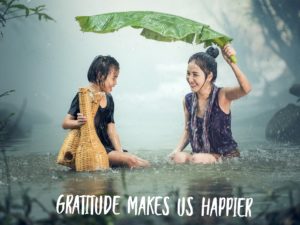 Sanctuary Choir Christmas Cantata
at the Masonic Village (Burlington)
Thursday, January 9, 2020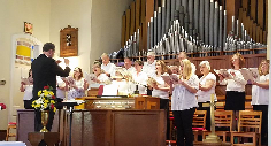 As we have done the past few years, we are heading to the Masonic Village in Burlington (Jacksonville and Oxmead Roads) to present our Christmas cantata, "The Voices of Hope." If you want to hear it again, or if you didn't get a chance to hear it at church, join us at the Masonic Village Chapel at 7:00 PM on Thursday night, January 9, 2020. If you can come a little early, there are often residents who can use some assistance getting to the chapel and we try to help with that.
We have three more dates set up for making soup for Soup Sunday 2020. If you can join us for one or more of the three, that would be great. Bring your peeler or your favorite knife and help us prepare for one of our favorite food days of the year.
Saturday, January 4, 2020 9:00 a.m.
Saturday, January 11, 2020 9:00 a.m.*
Saturday, January 25, 2020 9:00 a.m.**
*This is also the day we are undecorating the church sanctuary (at 9:30 a.m.)
**This is also set-up for Soup Sunday day so not only will we need help making the final soups but we will also need help setting up.
We have a lot more coming up. Click here for the complete list.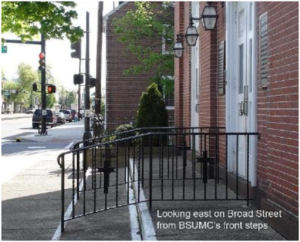 Last updated 1/1/2020
http://C:\Users\Owner\Downloads\googlef8e658a65d0872b0.html
© 2016, 2017, 2018, 2019 and 2020 Broad Street UMC