God is inviting us to be a community of believers with Christ as the heart of our ministry, calling us to Proclaim, Care, Praise, Serve and Grow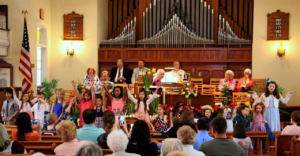 Click here for this week's announcements
Schedule (September – June)
Sunday Mornings
9:15 AM – Cherub Choir practice (children ages 2 -?)
9:30 – 10:15 AM – Sunday School classes for all ages from toddlers through adults.
10:30 – 11:30 AM – Blended Worship in the Sanctuary (Traditional and Contemporary)
Cherub Choir practice is at 9:15 a.m. before Sunday School and children's Sunday School classes will begin around 9:30 following Cherub Choir practice.
Adult Sunday School classes – the Gleaners class which meets in the Chapel and is a more traditional Sunday School class covering the Bible, and the Contemporary Sunday School class which meets in the Pastor's office, are both available to any adult who would like to participate in Sunday School.
Summer Schedule (June – September)
Sunday Mornings
9:20 AM – Hymn Sing
9:30 – 10:30 AM –
Worship in the Chapel
(children up to age 6 start in worship and then leave for
combined Sunday School/Children's Church)
We are encouraging everyone to form a new habit this month – one where we spend a few minutes each day just thinking about the gifts that we have been given, both large and small, and appreciating that we have been given those gifts. Developing a habit of being grateful has many benefits and there are many ways to start practicing gratitude.
Each day on our Facebook page we will post a new Bible verse related to being thankful, we will post something about which we're thankful and we'll provide some interesting ideas from various articles about the science behind gratitude. We'll also include those things on a special page on our website if you're not a Facebook user.
Let's not limit giving thanks to just the fourth Thursday in November each year.
Let's look around and be thankful for all that we do have and all we have been given. Thank you, God!
Would you like to join the choir for the Christmas Cantata only?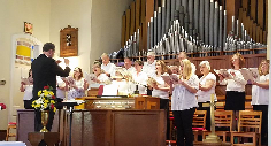 Do you like to sing? Have you always wondered what it would be like to be in the choir? Are you wondering whether or not you're good enough or if you'll like it? Here's your opportunity to find out!
You can join the sanctuary choir and sing only in the Christmas cantata without making a commitment to sing every Sunday. From now until December 19, 2019, choir practice will begin at 7:00 and we will practice the Christmas Cantata first. That way, you can join us for cantata practice and leave when that's over. Following that cantata practice each week we will practice the music for the rest of the Sundays between now and then.
We are doing a wonderful cantata by Joseph Martin this year and you'll really enjoy it. Come give it a try next Thursday. No auditions, just fun, fellowship and singing.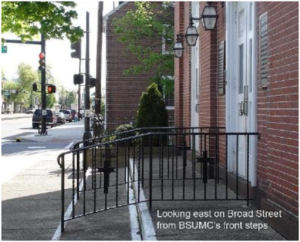 Last updated 11/2/201
9
http://C:\Users\Owner\Downloads\googlef8e658a65d0872b0.html
© 2016, 2017, 2018 and 2019 Broad Street UMC