God is inviting us to be a community of believers with Christ as the heart of our ministry, calling us to Proclaim, Care, Praise, Serve and Grow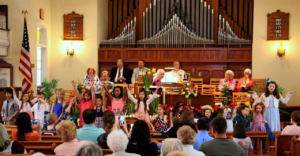 Click here for this week's announcements
Schedule (September – June)
Sunday Mornings
9:15 AM – Cherub Choir practice (children ages 2 -?)
9:30 – 10:15 AM – Sunday School classes for all ages from toddlers through adults.
10:30 – 11:30 AM – Blended Worship in the Sanctuary (Traditional and Contemporary)
Cherub Choir practice is at 9:15 a.m. before Sunday School and children's Sunday School classes will begin around 9:30 following Cherub Choir practice.
Adult Sunday School classes – the Gleaners class which meets in the Chapel and is a more traditional Sunday School class covering the Bible, and the Contemporary Sunday School class which meets in the Pastor's office, are both available to any adult who would like to participate in Sunday School.
Summer Schedule (June – September)
Sunday Mornings
9:20 AM – Hymn Sing
9:30 – 10:30 AM –
Worship in the Chapel
(children up to age 6 start in worship and then leave for
combined Sunday School/Children's Church)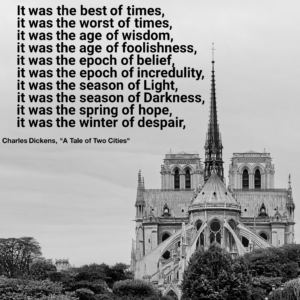 with Gerald Charles Dickens
Sunday, September 15, 2019 2:00 p.m.
We are thrilled to have Gerald Charles Dickens join us again in Burlington this year. He will present his one-man performance of "A Tale of Two Cities" which is a new performance for Burlington. Please click here for more information and tickets.
'Try Out the Choir' Month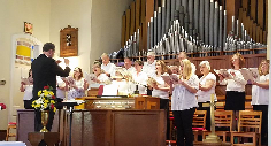 Do you like to sing? Have you always wondered what it would be like to be in the choir? Are you wondering whether or not you're good enough or if you'll like it? Here's your opportunity to find out!
For the month of September, we're inviting all of those interested in finding out what choir is all about to come to our practices on Thursday nights at 7:30. No pressure to sing on Sunday mornings if you don't feel comfortable and no pressure to join permanently – just come see if you like it. We have plenty of room in the choir loft for all voice parts. No try outs or auditions. Everyone 9th grade and older is welcome.
If you determine that you enjoy being in the choir, become a choir member. If you find out that it really isn't for you, that's okay, too. That's what this month is for. Hope to see you on Thursday night! Come in the back door by the Fellowship Hall and pick up some music and then head up to the sanctuary where we practice from 7:30 – 9:00 p.m.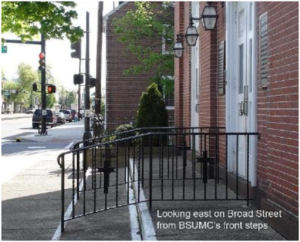 Last updated 09/07/201
9
http://C:\Users\Owner\Downloads\googlef8e658a65d0872b0.html
© 2016, 2017, 2018 and 2019 Broad Street UMC