Announcements for the week of December 20, 2020
We are holding our first outdoor worship service, weather-permitting, beginning this week, December 20th. The services will be in front of the churhc, masks required, bring your own chair if you want to sit. The service would consist of a few hymns and prayers and a brief message and would last no longer than 30 minutes. Please let us know if you are interested in attending by completing this brief registration form.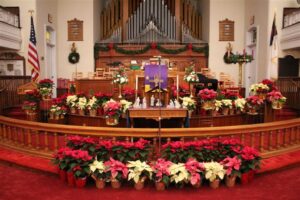 We won't have the front of the church decorated with poinsettias this year – this picture will have to suffice for 2020 – but you can still honor or remember a loved one with a virtual poinsettia which will be displayed during our Christmas Eve, December 24th online service along with the names just like they normally are in our bulletin. The deadline to order a virtual poinsettia is Monday, December 21st. Suggested donation is $5/poinsettia. Complete this form to donations@broadstumc.org (you can send a check to the church with your donation or complete the on-line giving form
Share Your Christmas Greetings Via Video or Picture During our Christmas Eve Service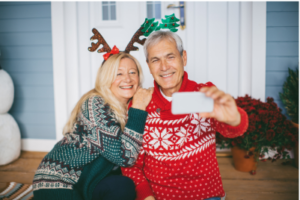 Our Christmas Eve service is going to be on-line only this year, but we would like to give people the opportunity to wish each other Merry Christmas. We know that we haven't been able to get together or see each other much or at all, but if you would like to record a short (30-60 seconds) video with your Christmas wishes for the congregation or even just send us a picture of yourself (in front of decorations or dressed in our holiday finest), we will incorporate that into the end of the Christmas Eve service video – the time when, if we were in person, everyone would be greeting each other and sharing Christmas blessings before heading home.
Please send your video or photo (with the caption you'd like us to use) to: Christmas@broadstumc.org by the end of the day Monday, December 21st, and we'll be able to have that incorporated into our Christmas Eve on-line service. If you have any technology issues, please feel free to reach out to Bryan Roth or Laura Jaskot at that same e-mail address (Christmas@broadstumc.org) and they will be sure to help you out.
We look forward to seeing everyone's videos and pictures!
We do still have our used book sale. Please make an 'appointment' with Becky MacMillan who can help while the church is closed for in-person worship.
We also still have some soup for sale. As autumn arrives and the weather turns cooler, consider purchasing some soup to help support the church. Several varieties are still in our freezer. Price for soup is $10/quart or 3 quarts/$25. Please contact Laura Jaskot for more information or to purchase soup. We can also deliver locally if you can't get to the church to purchase.