Join Us for These Upcoming Events
Broad Street UMC is a busy place! Join us for one or more of these exciting activities. We'd love to have you!
BSUMC at the Trenton Thunder
Our annual church family and friends trip to see the Trenton Thunder will be Thursday night, June 27th, for a 7PM game against the New Hampshire Fisher Cats. Tickets are $8 and can be reserved by contacting Cindy Borgstrom or leave a message through the church office. Payment is due when you reserve your seats. There will be fireworks set to patriotic music following the game. This is a fun trip every year – don't miss it!
SonRise National Park Vacation Bible School
Sunday, July 7, 2019 – Thursday, July 11, 2019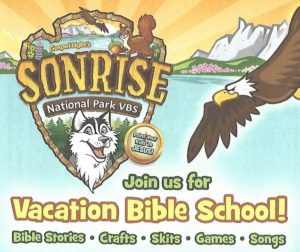 Point your kids to Jesus with this awesome Vacation Bible School program! Discover the best destination of the summer! Children will get to know the promises of Jesus and each night will learn through stories about a different promise. Each day has a different animal associated with it that will help the children remember the promise. An eagle, a beaver, a squirrel, a husky and a caribou will teach about True Peace, True Riches, True Power, True Love and True Hope. Crafts, music, skits, stories, games and snacks – and if your child pre-registers by June 23rd, a free t-shirt as well! Click here for a registration form (a separate form is needed for each child). Complete it and return it to BSUMC by e-mailing office@broadstumc.org.
Tuesday, October 22, 2019 – Saturday, October 26, 2019
Join us on a fun trip to the Pine Ridge Dude Ranch in Kerhonkson, NY. Round trip motor coach, 4 nights deluxe accommodations, 3 meals per day, entertainment each evening, photo ops with the horses, paddle boats, shuffleboard, nature walks, games and much more. $499 per person, double occupancy (additional $65 for a single). For more information or to reserve your spot, call Judy Tucker at 609-387-0397.
Gerald Dickens Returns – Sunday, September 15, 2019
Details coming soon and tickets will be available soon as well.
Annual Yard Sale – Saturday, September 28, 2019
9:00 a.m. – 3:00 p.m.; drop off dates to be announced mid-summer
250th Anniversary Kick-Off/Annual Friends & Family Sunday
Our 250th Anniversary of Methodism in Burlington is in 2020 and we are kicking off a year-long celebration with David Finch returning to preach for our Annual Friends & Family Sunday worship service followed by a free luncheon.
We plan to have a number of special events through our 250th Anniversary year celebration. One of these events is a concert by the Singing Tenors. You may have heard them at events in South Jersey and Philadelphia. The Singing Tenors are from the Academy of Vocal Arts in Philadelphia, one of the world's most prestigious institutions for training young artists as international opera soloists. The program will consist both of music from operas as well as popular music from Broadway. You won't want to miss this incredible opportunity to hear them perform. Tickets are only $20. They are available by clicking here.
Annual Christmas Tea – Saturday, December 7, 2019
Details coming soon and tickets will be available soon as well. You won't want to miss this fabulous tea with homemade tea sandwiches, scones and desserts! There's also a silent auction of wonderful gift baskets for the holidays.