Announcements for the week of January 23, 2022
Virtual Soup Sunday
Due to COVID concerns, a lack of heat in the gym, and an issue with our hot water in the kitchen, Soup Sunday will be virtual again this year. Soups can be pre-ordered through Sunday, January 30th and can be picked up on Saturday, February 5, 2022, at Joe and Laura Jaskot's house. Quarts are $10 each (buy 5, get one free) and pints are $5 each (buy 5, get one free). Soup will be fresh, not frozen. Find more information and place your order here.
Used Book Sale to Support the Scholarship Fund – On-Going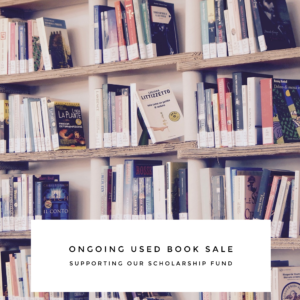 Visit our Book Sale in the breezeway. New books have come in as well as puzzles. Come find a book to read this week. All proceeds from our used book sale support the Scholarship Fund.
No Sunday School Through at Least February 6th
Due to COVID concerns, the Trustees have asked that we not hold Sunday School (for any age – children through adult) through at least February 6th. They will meet again that day and determine if that precaution should still be continued or if we will be safe going back to having Sunday School. Some of our youngest attendees cannot yet be vaccinated and we are doing this out of an abundance of caution. Worship services continue in person at 10:30 – masks required.
Weekly on Tuesdays from 7:00 – 8:00 PM – Bible Study and Dinner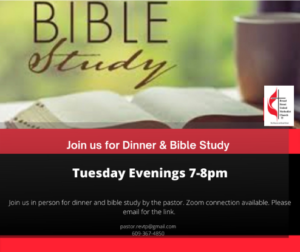 Pastor Teaira will hold a Bible Study every Tuesday night from 7:00 – 8:00. Dinner will be served. Please let Pastor Teaira know if you are attending each week so that there is enough food.
Weekly on Thursdays from 12:00 Noon – 12:20 – Mid-Week Sermon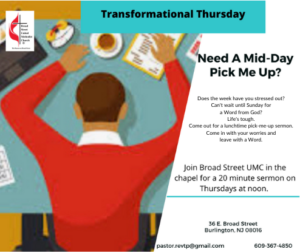 If you need a mid-week pick-me-up, stop in the chapel for a 20-minute sermon every Thursday at noon. No RSVP required.