God is inviting us to be a community of believers with Christ as the heart of our ministry, calling us to Proclaim, Care, Praise, Serve and Grow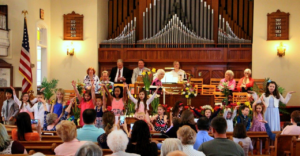 Click here for this week's announcements
'Fall' Hours (September – June)
Sunday Mornings 9:15 – Cherub Choir practice (children ages 2 -?)
9:30 – 10:15 Sunday School classes for all ages from toddlers through adults.
10:30 – 11:30 Blended Worship in the Sanctuary (Traditional and Contemporary)
Cherub Choir practice is at 9:15 a.m. before Sunday School and children's Sunday School classes will begin around 9:30 following Cherub Choir practice.
Adult Sunday School classes – the Gleaners class which meets in the Chapel and is a more traditional Sunday School class covering the Bible, and the Contemporary Sunday School class which meets in the Pastor's office, are both available to any adult who would like to participate in Sunday School.
Starts September 16th – join any time.
Thursday Evenings 7:30 – 9:00 – Sanctuary Choir Practice (ages 9th grade and older). Starting time moves to 7:00 for the last few weeks of practice prior to our Christmas and Easter cantatas – we are currently starting at 7:00 p.m..
Worship Service (no Sunday School)
Sunday, Dec. 30, 2018 10:30 a.m.
Our Sunday School does not meet this morning but please join us for worship at 10:30. We will sing Christmas Carols and continue to celebrate the birth of Christ during our last worship service of 2018.
Sunday, Jan. 6, 2019 9:30 a.m.
Our Cherub Choir practices will resume at 9:15 on Sunday, January 6, 2019 with Sunday School for the children following practice. Sunday School for adults begins at 9:30 a.m..
Sunday, Feb. 24, 2019 11:30 a.m.
Next to Easter and Christmas, this is probably our best-attended Sunday of the year! Following the worship service, join us for a free lunch made up of a variety of home-made soups ranging from vegetable, beef & barley, chicken Tuscan, ham & bean to many more. You won't want to miss it! And watch for upcoming opportunities to join us at the church to make the soup – we have a lot of fun!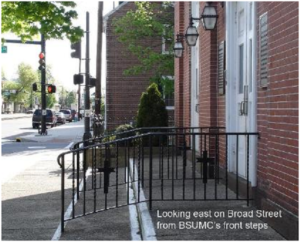 Last updated 12/30/2018
http://C:\Users\Owner\Downloads\googlef8e658a65d0872b0.html
© 2016, 2017 and 2018 Broad Street UMC