God is inviting us to be a community of believers with Christ as the heart of our ministry, calling us to Proclaim, Care, Praise, Serve and Grow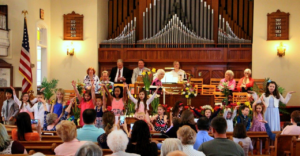 Click here for this week's announcements
Sundays
9:30 – 10:15 Sunday School classes for all ages from
toddlers through adults.
10:30 – 11:30 Blended Worship in the Sanctuary
(Traditional and Contemporary)
We are back on our fall hours after a long and enjoyable summer.
Cherub Choir practice is at 9:15 a.m. before Sunday School and children's Sunday School classes will begin around 9:30 following Cherub Choir practice.
Adult Sunday School classes – the Gleaners class which meets in the Chapel and is a more traditional Sunday School class covering the Bible and the Contemporary Sunday School class which meets in the Pastor's office are both available to any adult who would like to participate in Sunday School..
A Christmas Carol with Gerald Dickens
We are happy to announce that we will be hosting Gerald Charles Dickens again this year in his production of A Christmas Carol. We look forward to seeing everyone on Saturday, December 2, 2017, for this annual tradition.
What a great way to start your holiday season!
Please click the picture below to get more information and access a ticket order form or purchase tickets online.
Please use the button or the QR code below to donate to Broad Street United Methodist Church on this international day of charitable giving.
#GivingTuesday
We thank you for your support!
Broad Street UMC Joins FlipGive Fundraising for On-Line Shopping
Broad Street UMC has just joined FlipGive. Click on the link below and if you are doing any on-line shopping and use FlipGive, we will get a percent of your purchases. Some companies give more than others and many run specials periodically. Please consider doing your on-line shopping through FlipGive (or continue to use AmazonSmile for those who are shopping there). We appreciate the support. Feel free to pass this along.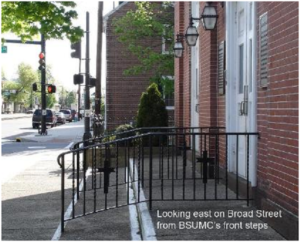 Saturday, September 16, 2017
Thank you! We packed 17,280 meals and had a great time doing it. The turnout was terrific – we had over 80 volunteers with representatives from at least five churches (Broad St. UMC, Buddtown UMC, Willingboro UMC, Delran UMC, and City of Refuge), two girl scout troops and many neighbors, family and friends. The meals we packed were added to others that had been packed in the Philadelphia area and shipped to a school lunch program in Madagascar.
Last updated 11/14
/2017

http://C:\Users\Owner\Downloads\googlef8e658a65d0872b0.html
© 2016 and 2017 Broad Street UMC