We have a large building, but once you walk around inside once or twice, it's easy to learn how to get where you want to be. (more pictures coming soon to help)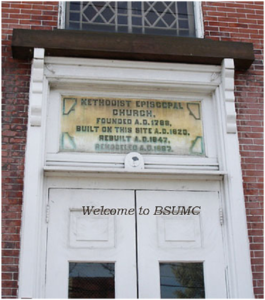 Facing the church from Broad Street, there are three sets of double doors. Take the doors in the center. When you walk in the front door from Broad Street, you're on the first floor of our building. There's an elevator that will take you upstairs to our sanctuary or you can turn to your right to get to the stairs up. There are two sets of stairs – both will get you to the sanctuary.
Our sanctuary has two aisles. There is a balcony as well. You can get to the balcony from either of two staircases in the front of the sanctuary or the two in the rear corners of the sanctuary.
On the first floor of the building (if you don't go up to the sanctuary) there is a hallway in front of you as you come in from the street. In the hallway on the right is the Pastor's office and on the left is the Secretary's office. Directly in front of you is our Chapel. We use the Chapel in the summer for our worship services as it is air-conditioned and our sanctuary is not. On the far side of the Chapel there is a ramp or a staircase. Both lead to a door into our library.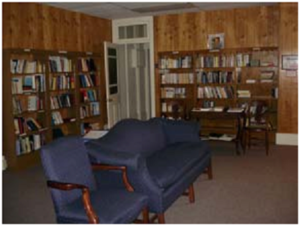 There is a Ladies' Room on the far left corner of the library. If you turn left when you get into the library from the Chapel there is a men's room just outside the library on the right. Beyond the men's room there is a staircase that goes to the front of the sanctuary. Beyond the staircase is a room that has been used as many things but currently houses our food pantry.
There is an exit to our side yard in the library. There is also a door to our breezeway where you will find our used book sale. The proceeds from our used book sale support our scholarship fund.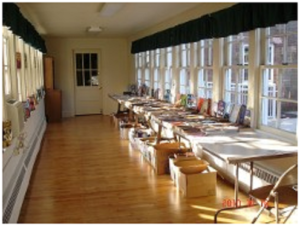 Through the breezeway you will enter our Sunday School building. To the right is our 'Junior Room' or fellowship hall. Directly in front of you at the end of the hallway is our gym where the Bridge Players Theater Company holds their performances. In that hallway there are both Men's and Ladies' Rooms.
Upstairs are our Sunday School rooms. We have a bathroom at the top of the stairs with a full nursery on the right, a classroom on the left, another classroom at the end of the hall on the right and a toddler playroom at the end of the hall on the left. O

f course, you can always ask anyone for help with directions – we're very friendly!