Sunday, September 15, 2019 – 2:00 PM – Only One Show Time This Year
Tickets in Advance: $17/adults; $15/students & seniors (62+)
Tickets at the door: $20/adults; $18/students & seniors (62+)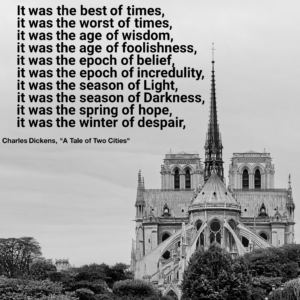 Gerald Dickens returns to Burlington City, presented again this year by the Broad Street United Methodist Church and we couldn't be happier!
Mr. Dickens is the great-great grandson of author Charles Dickens. This year, he will be performing "A Tale of Two Cities" in September.
One of Charles Dickens' best-known books, this story of two men in love with the same woman is set against the backdrop of the French Revolution. Join us as we hear this incredible story told in a one-man show by Gerald Charles Dickens.
The Historic Broad Street United Methodist Church is celebrating its 249th anniversary this year in December and is the oldest congregation of Methodists in New Jersey. The church sanctuary where the performance will be held holds 450-500, however we will limit tickets to 400 for the show to allow for everyone to have a good seat. Seats are available both on the sanctuary floor and in the balcony, and seating will be general admission. Doors for the show will open 45 minutes before the performance time.

Not recommended for children under the age of eight (it's difficult for younger children to understand a one-man performance) so free child care will be provided in our well-staffed and equipped nursery, toddler and play areas.
The church is fully handicapped accessible. There is a ramp into the building towards the back of the church and there is an interior ramp to allow access from the rear of the building (near the handicapped restrooms) to the front of the building. In the front of the building there is an elevator to the 2nd floor sanctuary as well as stairs. The Ladies' and Men's rooms are located on the main floor (street level) of the church.
Mr. Dickens will be available for an hour after the show for autographs and pictures and to talk to guests and answer questions. Free coffee and baked goods will be available for you to enjoy after the performance as well.
Mr. Dickens' 2019 US Tour is being coordinated by Byers' Choice, manufacturers of the collectible Caroler figurines. For more information on Byers' Choice, click here.
To download and print a ticket order form, click here.
Again this year you can order and pay for your tickets on-line. A small handling fee is added to each ticket. Click the box below to get to the on-line ordering form.